August 27, 2018 
Conservation Legacy has been sending crews on disaster response deployments across the U.S. since 2006. 
In 2018, our programs have continually deployed staff and crews from Arizona Conservation Corps, Conservation Corps New Mexico, Great Appalachian Conservation Corps, Southwest Conservation Corps and Southeast Conservation Corps, including a multi-crew deployment to Puerto Rico. Conservation Corps New Mexico currently has two crews deployed to Texas, and our staff is always at the ready for possible future deployments.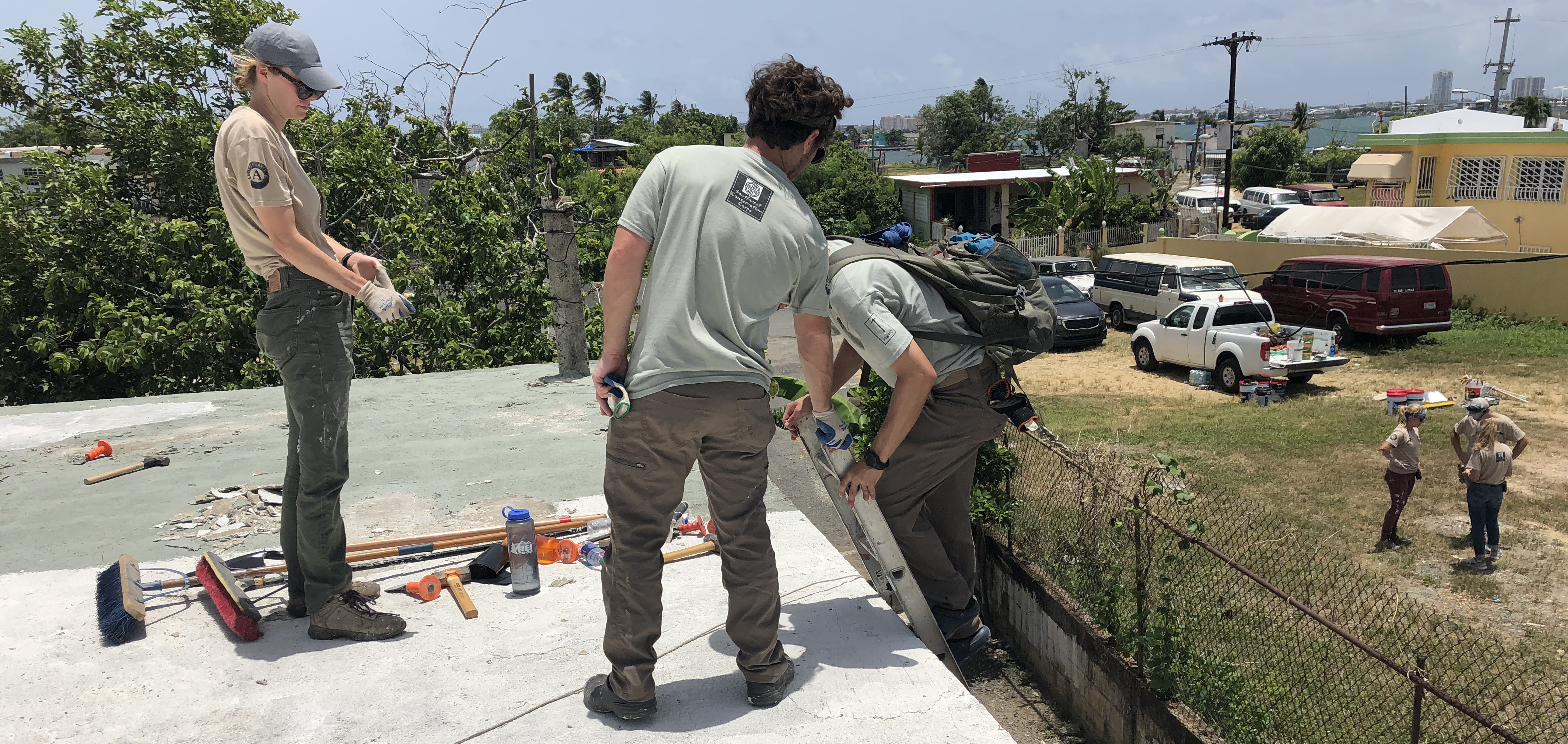 Southwest Conservation Corps Crew Members working on a roof in Puerto Rico
We are part of a larger community of corps programs, uniting to put in the hard work where we are needed most. Crew members, who complete diverse conservation projects, are well suited to for disaster response activities. The skills learned from erosion control, tree planting, trail building, fencing, invasive species management and fire mitigation are easily transferable to disaster response needs. 
Crews are accustomed to working long days with little amenities and creature comforts and have the teamwork and camaraderie to perform self-sufficiently in tough situations. Corps training allows them to be effective from the moment their boots hit the ground and crew members are well versed in safety procedures, as the nature of their daily work demands it. 
"Disaster Relief is providing service to people who need help after a disaster has happened who don't really have the resources to get back on their feet," reflects crew member Madalyn Doty, "I think I will remember most the crew memories. One, the work we've been doing and the way we've been helping people, but also the time we've been able to spend together and develop a strong crew bond."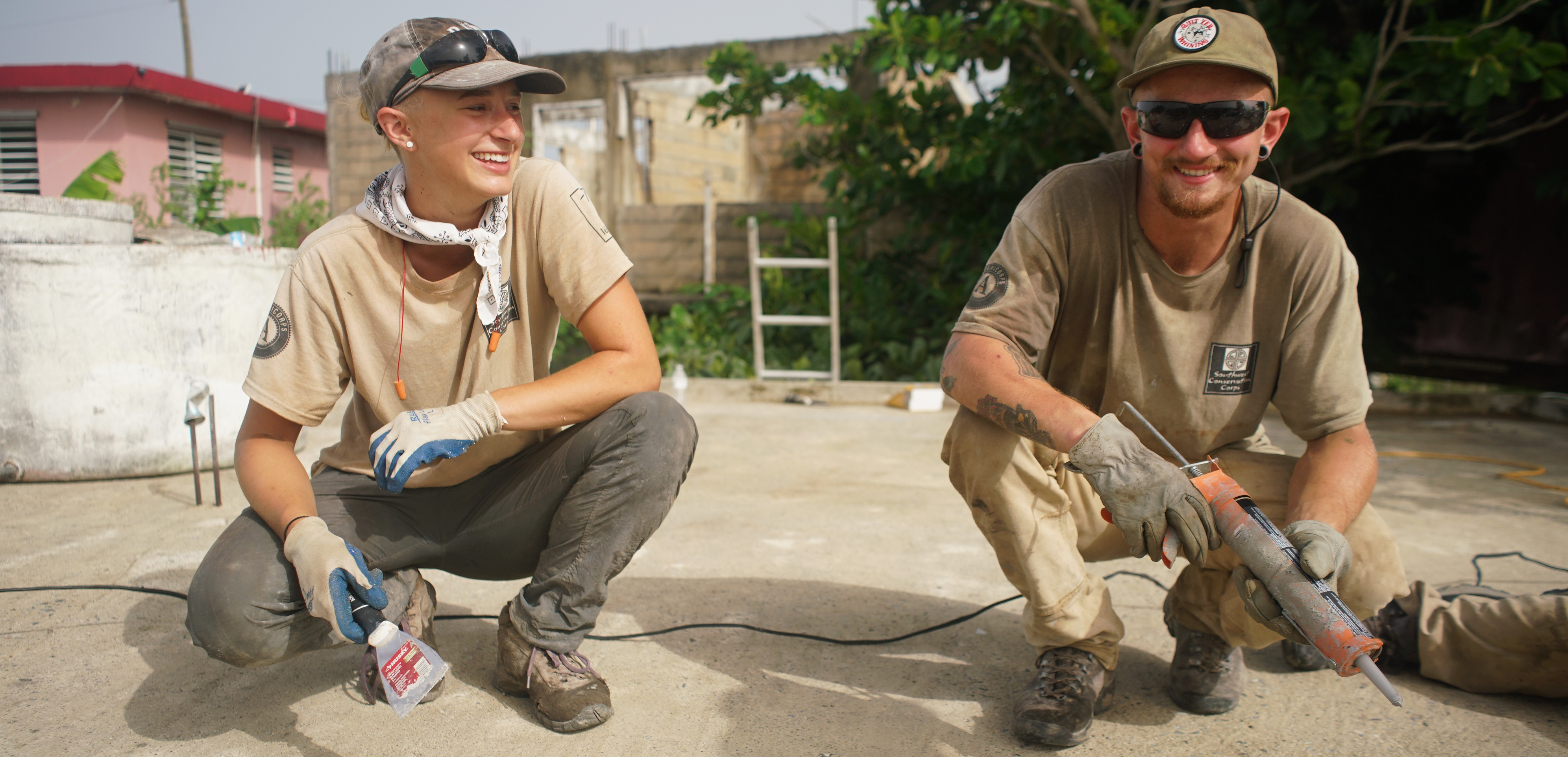 Crew members stop for a smile   Photo: Sarah Hamilton

Conservation Legacy programs are active members of the AmeriCorps Disaster Response Team (A-DRT), supported by the Corporation for National and Community Service, leveraging program resources to assist communities in disaster relief and recovery. A-DRT programs have a heightened focus and commitment to disaster response, engage in activities and trainings year round, are a nationally deployable resource and are recognized as leaders in the emergency management community. Project capabilities include mass care and shelter operations, mucking and gutting, debris clean-up, mold suppression, hazard tree removal, public lands and infrastructure restoration, volunteer reception center management, field leadership, needs assessment and case management. 
A legacy of service to communities in need
Conservation Legacy has been offering crews for deployment on federal disaster relief projects since SCC mobilized and dispatched a crew in 2006 for two weeks in response to tornadoes in Florida and six crews for 25 weeks on the Gulf Coast in the aftermath of Hurricane Katrina.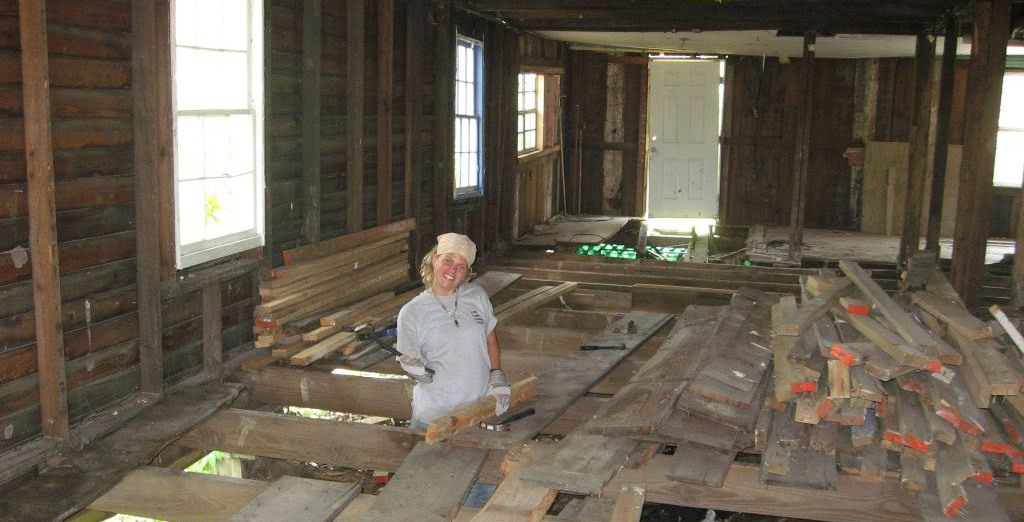 Southwest Conservation Corps Crew Member on a 2007 disaster deployment to the Gulf Coast
Since the first disaster deployments, Conservation Legacy programs continued to be called into service, working on many more assignments including Hurricane Sandy and the Joplin, Missouri tornado recovery efforts. In addition, our crews have vast experience responding to wildland fires. Southwest Colorado saw the devastating impacts of wildfire first hand in 2002 when the Missionary Ridge Fire burned 72,962 acres and destroyed 56 homes. The San Juan National Forest subsequently contracted with SCC to complete thousands of hours of fire rehabilitation work on trails and public lands through the burn area. 
In 2016, Arizona Conservation Corps, Southwest Conservation Corps, Great Appalachian Valley Conservation Corps and Southeast Conservation Corps all contributed fully dedicated crews to relief efforts around the country. These crews worked on assignments in West Virgina, Texas and Louisiana, supporting communities as they dealt with the aftermath of flooding and storm damage. Veterans Fire Corps crews were part of these efforts and performed exceptionally well as disaster relief teams. 
Last year, Conservation Legacy programs deployed a total of nine crews on Disaster Response assignments. This included 55 members and 19 staff, aiding 537 individuals through CNCS supported services.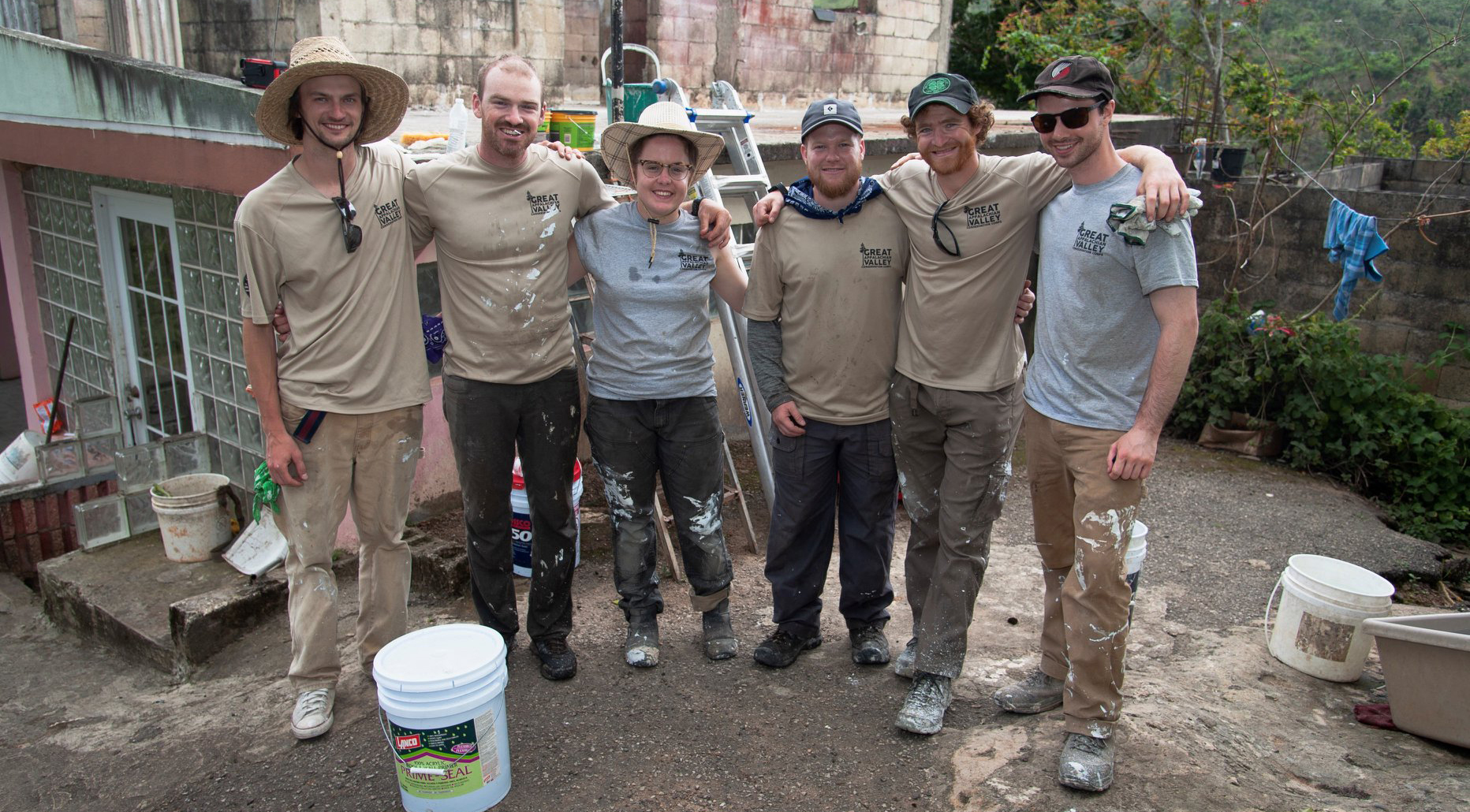 Great Appalachian Valley Conservation Corps in Puerto Rico
Dispatch from the field
During the summer, Southwest Conservation Corps sent five crews to Puerto Rico on a disaster relief deployment earlier this year. They treated seven rooms for mold, provided needs assessments for 35 homes, removed one ton of debris and repaired 22 roofs over the course of a month. Clara Lerchi, a crew member serving during the deployment, writes of the experience:
"I've only been here in San Juan, Puerto Rico for one week, but it feels like months. We work somewhere between nine and eleven hour days and we have six work days, one day off. The work is exhausting but fulfilling. These people genuinely need our help. For my crew's orientation week, we got assigned to work on an elderly woman's roof; it needed the top surface scraped off and then all the cracks and holes were filled in with either caulk or quick drying cement. Then, we put clear primer over the entire concrete roof and finally covered all of it with white sealant. 

Southwest Conservation Corps Crew Members repairing a roof   Photo: Sarah Hamilton

During the time we were working on this woman's house, one man came over and asked for us to look at his house, so we walked a few hundred yards to find a teetering arrangement of wooden boards and electrical wires. The power did not work, so these wires were not actually dangerous, but it was still an absolute mess. While I was standing inside the house with my crew leader and one of my crew members who is fluent in Spanish, the homeowner felt the need to demonstrate how unstable his house was, so he banged on the walls from the outside and the whole building began to shake. The terrible conditions of these homes after this much time is genuinely scary. When we were about to leave, he kept smiling and saying Bless your souls, God blesses you, thank you for coming to help me.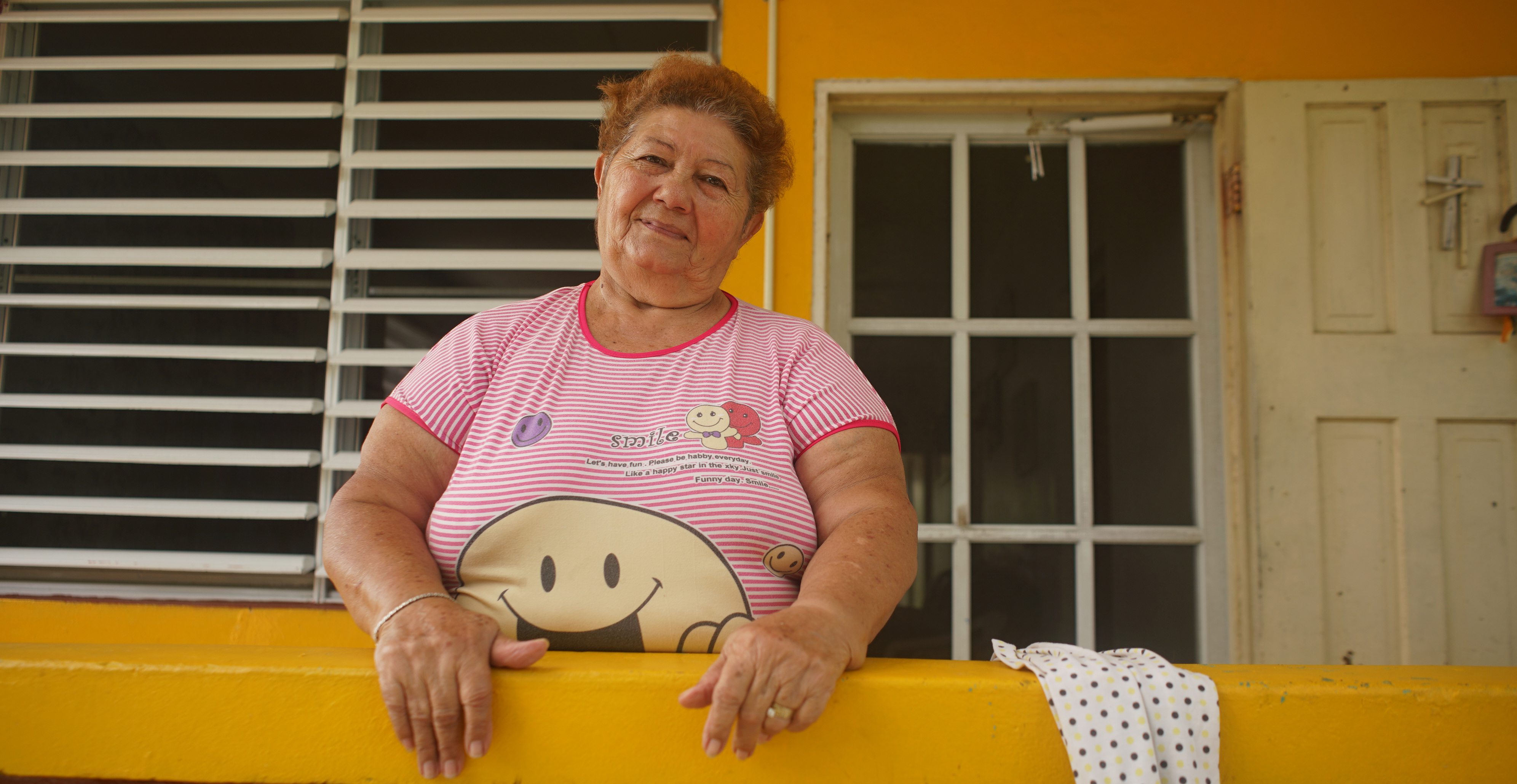 A smiling community member   Photo: Sarah Hamilton

The next day, an older woman walked up to our worksite while we were on the roof and asked for help. Her roof was leaking and she had black mold all over her bathroom and another room. This type of mold was so intense and dangerous that we had to wear gas masks, Tyvek suits and had to seal off our hands and arms from atmospheric exposure with duct tape. I felt awful walking around her house like an overheated Ghostbuster while she resided in it with her bright yellow flowery sundress and flip flops. This is the building she lives in. It is beautifully decorated and organized—albeit a bit moldy, but certainly cared for as well as it possibly can be—and we are walking around like it is a toxic nuclear fallout zone. I'm sure it must have been alarming for her to see us dressed up for such intense protection. 
Two other people have come up to our crew during the workday and asked us to assess their houses. We have not gotten to them yet, but will probably do so within the next few days. There is so much work to be done here. Now that I've seen how terrible it is, I cannot imagine doing anything else with my life besides disaster relief work. We work long hours and have nearly no time to ourselves, but I love every moment of it. 
It is the first thing in my life that I've done that feels completely worthwhile."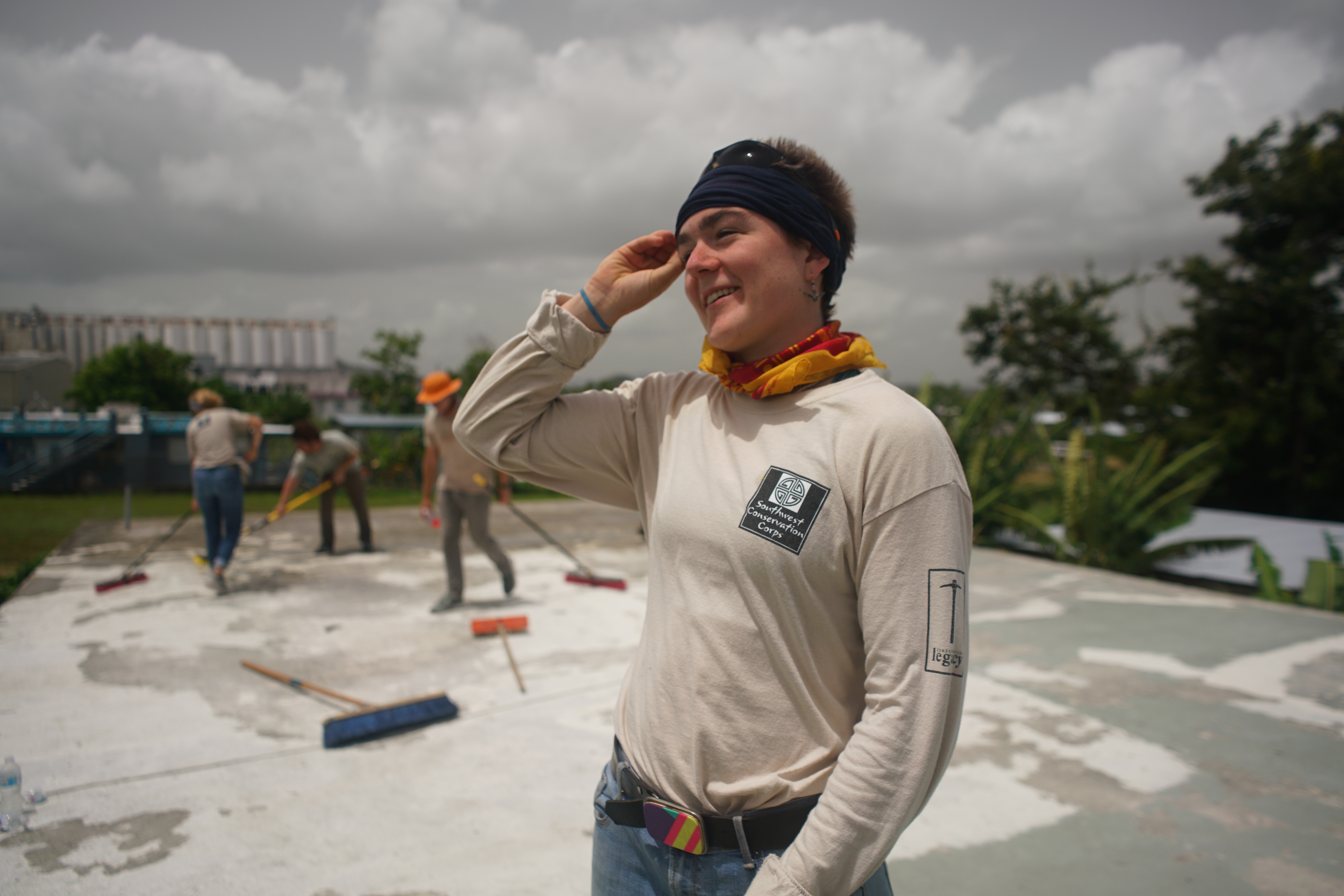 Clara Lerchi, Puerto Rico, 2018  Photo: Sarah Hamilton