Corps-to-Fire: Conservation service work as a pathway to wildland firefighting careers
August 23, 2018
The tradition of conservation service work as a large scale benefit to Americans and the land was cemented in our history through the Civilian Conservation Corps during its operation from 1933-1942. The idea of conservation service work has evolved through the years to accomodate the needs of modern society and our environment, and continues to provide millions of opportunities to Americans in service to their country and communities. 
Simultaneously, wildland firefighting has also evolved, from full suppression through the 20th Century, to modern efforts, which include the much more proactive and ecologically sensitive methods of fire fuels mitigation and prescribed burns, along with the management and intentional suppression of active wildfires. Many of today's fires are burning along the wildland urban interface, the area between unoccupied land and human development, creating a need for efforts to ensure community safety. These, combined with the frequency and intensity of modern day wildfires, have resulted in high demand for wildland firefighters—by no means an easy job—with opportunities present through federal and state land management agencies as well as private contractors.
What does it take to become a wildland firefighter? A specific skill set and knowledge base, a love of hard work, a commitment to physical fitness, the ability to perform on a team, and GRIT. In addition to the above, one must obtain the correct certifications, apply through the right systems, know when the fire hire season begins, be willing to travel and possibly relocate, enjoy mostly seasonal employment and compete against thousands of others just to land an interview. For all the benefits of working in wildland fire, it's not always a an easy path to get there.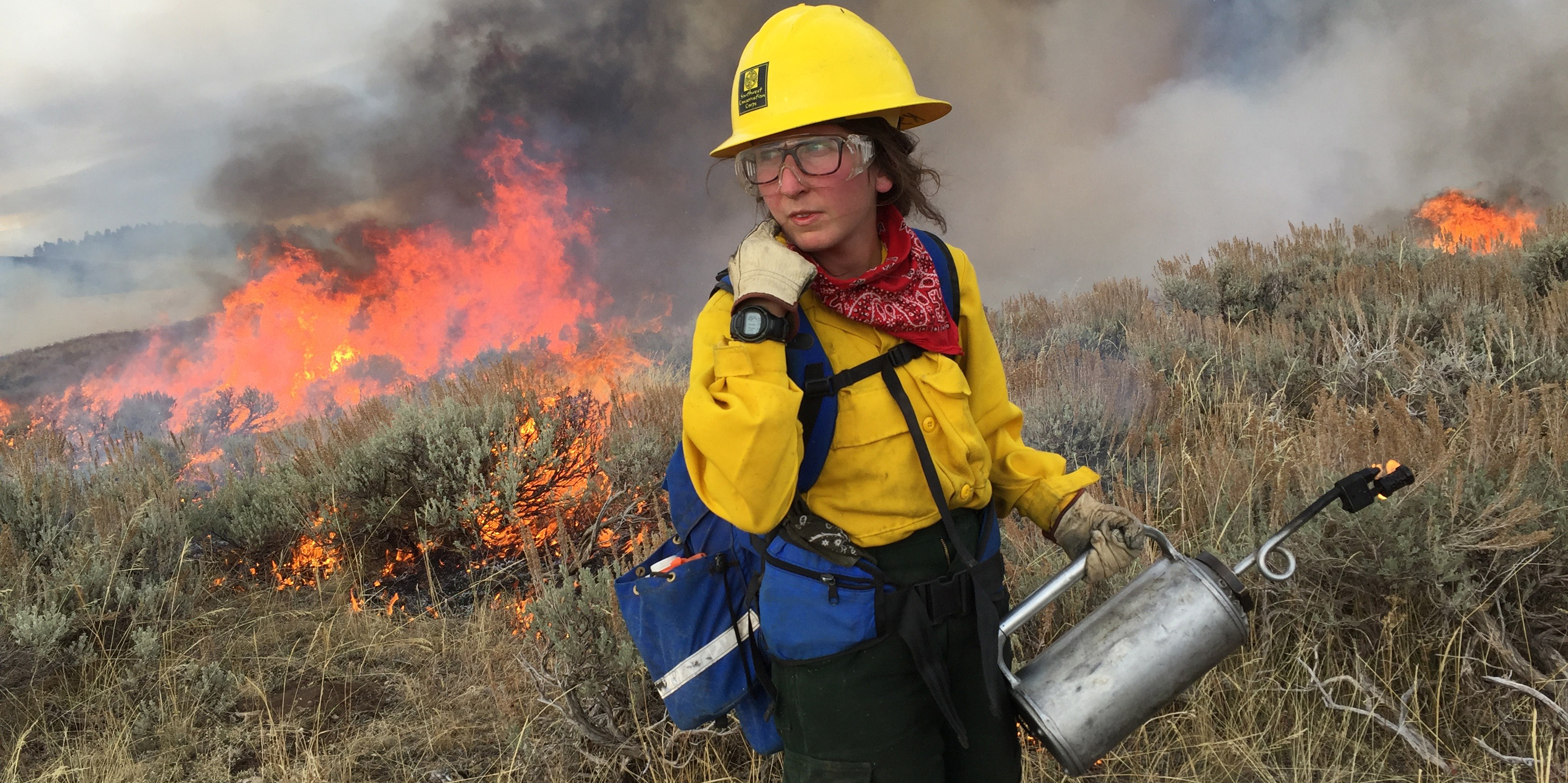 The Corps-to-Fire pathway
Corps programs have proven to be an effective pipeline for those interested in pursuing this line of work. Programs are similar in structure to wildland fire crews, working and living outdoors with little amenities for extended periods of time and functioning as a team to accomplish projects in challenging environments. These programs also provide similar training and work, using the same tools as many wildland fire crews. 
"The Southwest Conservation Corps crew did great work throughout the season and was willing to do lots of different things for us. They not only built fire line for prescribed burns and thinned stands to reduce fuels and enhance stand health but they helped gather rails for a fence, did some minor trail work, and, very significantly, spent 14 days on a fire assignment to California, " stated Dan Huisjen, Fuels Specialist with the Grand Mesa Uncompahgre and Gunnison National Forests.
Conservation corps crews are often involved with fire fuels mitigation work and Burn Area Emergency Response (BAER) projects—the work that is also done by wildland fire crews before and after a fire. Conservation corps crews work alongside project partners from federal and state land management agencies, the same agencies that are looking to hire wildland firefighters. "With good references, you have a good shot getting a job anywhere in the country," Bevin Protas, a squad leader for the San Juan National Forest said in an interview with the Durango Herald.
In addition, many conservation corps programs offer resources and support, such as assistance with job applications, opportunities to obtain additional certifications needed to be competitive, AmeriCorps Education Awards and leadership development. 
Innovative Programming
Conservation Legacy has a long history of creating opportunities for young people and veterans and operates several unique and innovative programs beyond traditional trail crews and individual placements that are designed to support the career path from corps to wildland fire employment. These programs are both replicable and scaleable, and are operated in partnership with federal agencies and other corps organizations.  

Veterans Fire Corps (VFC): The VFC aims to engage recent era Veterans on priority hazardous fuels projects while developing the next generation of wildland firefighters. This year, two pilot crews are working for the first time with the National Park Service in the West, in addition to the longstanding program with the US Forest Service, offering more opportunities and exposure for veterans in fire. Over 400 veterans have been served since 2011.
Wyoming Women's Fire Corps: Operated for the first time in 2017, the Wyoming Women's Fire Corps was a collaboration between the Bureau of Land Management, Montana Conservation Corps and Conservation Legacy to provide opportunities for women interested in wildland fire. The program had an incredibly successful first season, with most of the crew obtaining post-season employment in wildland fire.
Long-term Adult Fire Crew: 2018 brought a new program with Southwest Conservation Corps, aimed at providing a pathway to fire employment for non-veterans, in partnership with the San Juan National Forest outside Durango, Colorado. 
Boots on the ground
As with all things, the success of our programs lies in the success of our alumni. Hear firsthand of their fire experience and how corps programming helped them get there.
Olivia Gagliardi, Arizona Conservation Corps Alumni
Flagstaff Hotshots, Coconino National Forest

"I became interested in fighting fire because I decided it was time to push the boundaries of my comfort zone and explore my capabilities. It enticed me because I knew firefighting would challenge me, both physically and mentally, in ways I had not yet been challenged. Moreover, it combines my love of working outdoors with my desire to perform work that serves both people and the environment.
I am now working with the Flagstaff Hotshots on the Coconino National Forest. It is my first season firefighting and although it has certainly proven to be the some of the most challenging work I have done, it is also some of the most gratifying work. Thus far we have fought fires locally, as well as in New Mexico and Colorado. When not on a fire we spend our days doing thinning projects, hiking, working out and maintaining our equipment. I am the strongest I have ever been in my life and I am learning new skills everyday. 
Working in conservation, including my time spent crew leading, helped significantly in not only providing me with the skills and qualifications to obtain my position with the Forest Service, but it prepared me for a lifestyle of living simply, performing arduous work for long hours, and perhaps most importantly, connecting with a crew to work towards an common goal. In the firefighting world there are three principles we live and work by: Duty, Respect, and Integrity.  These values, however, were instilled in me long before, when I began conservation corps work four years ago. It began the process of shaping me into the woman I strive to be and firefighting is yet another step in that journey."  
Meghan Fitzgerald, Southwest Conservation Corps Alumni
Helitack Crew, Yellowstone National Park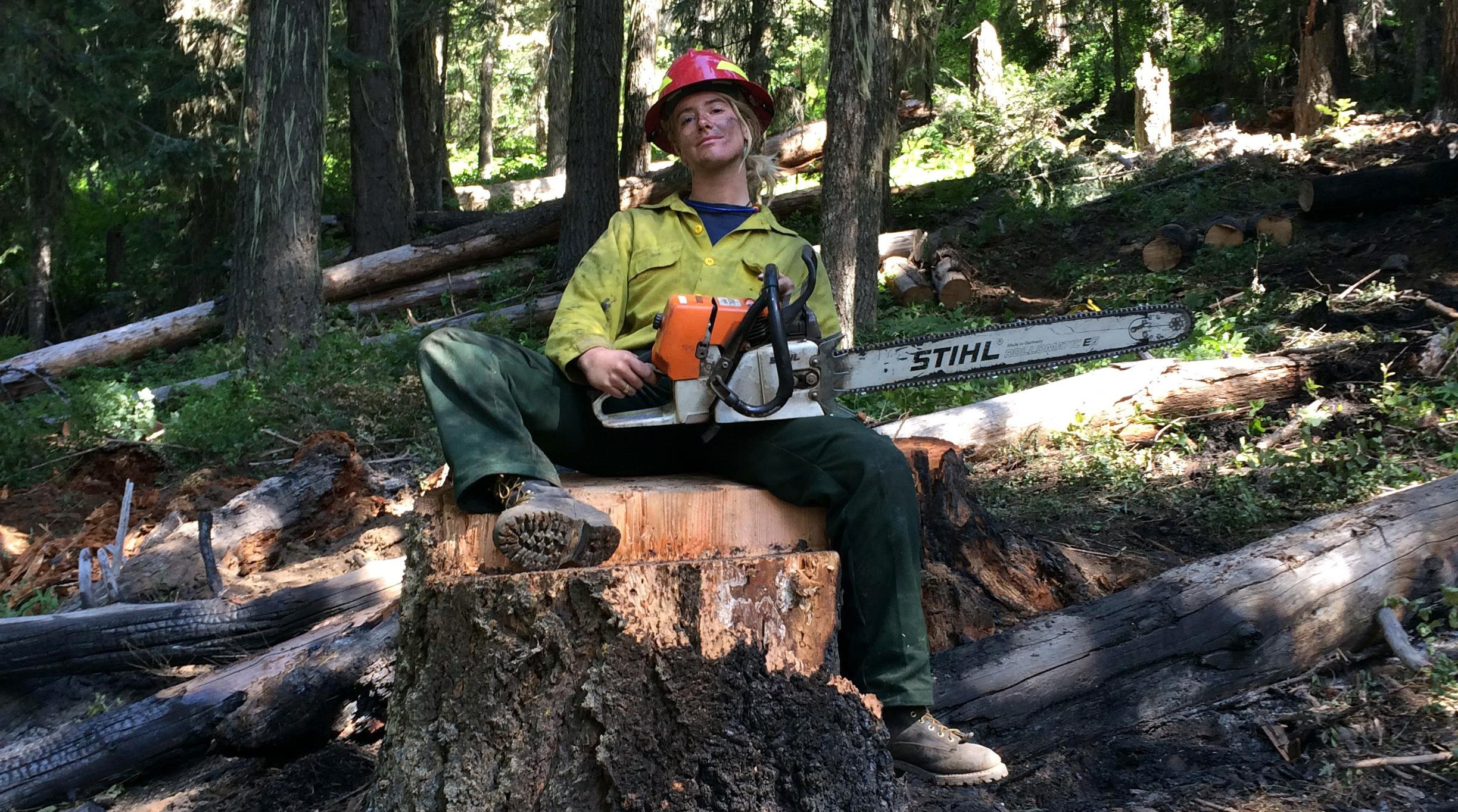 "It's hard work—working 16-plus hours, cutting and digging line, burning; but it's so much fun. I've pushed myself to limits I didn't know I could, such as hiking a saw seven miles into a fire up steep terrain then sawing for a full day. Most of the people in this industry are so wonderful and I've made great, lasting relationships with them. There are a lot of people to look up to, especially some really admirable women. 

I love working for the National Park Service, Yellowstone is such a sweet spot. Working in wildland fire is awesome and getting to ride around in helicopters and fighting fire is an amazing experience. I like the structure fire gives my life and I enjoy the work we do.
Southwest Conservation Corps helped me get into this industry by giving me the experience I needed on the saw and working conservation made me a good crew member which is paramount when working with the same people for 21 days. I think conservation is a humbling way to get into fire and would recommend it to anyone." 
Cody Milihram, Southwest Conservation Corps Alumni
Type IA Hand Crew, Arapaho-Roosevelt National Forest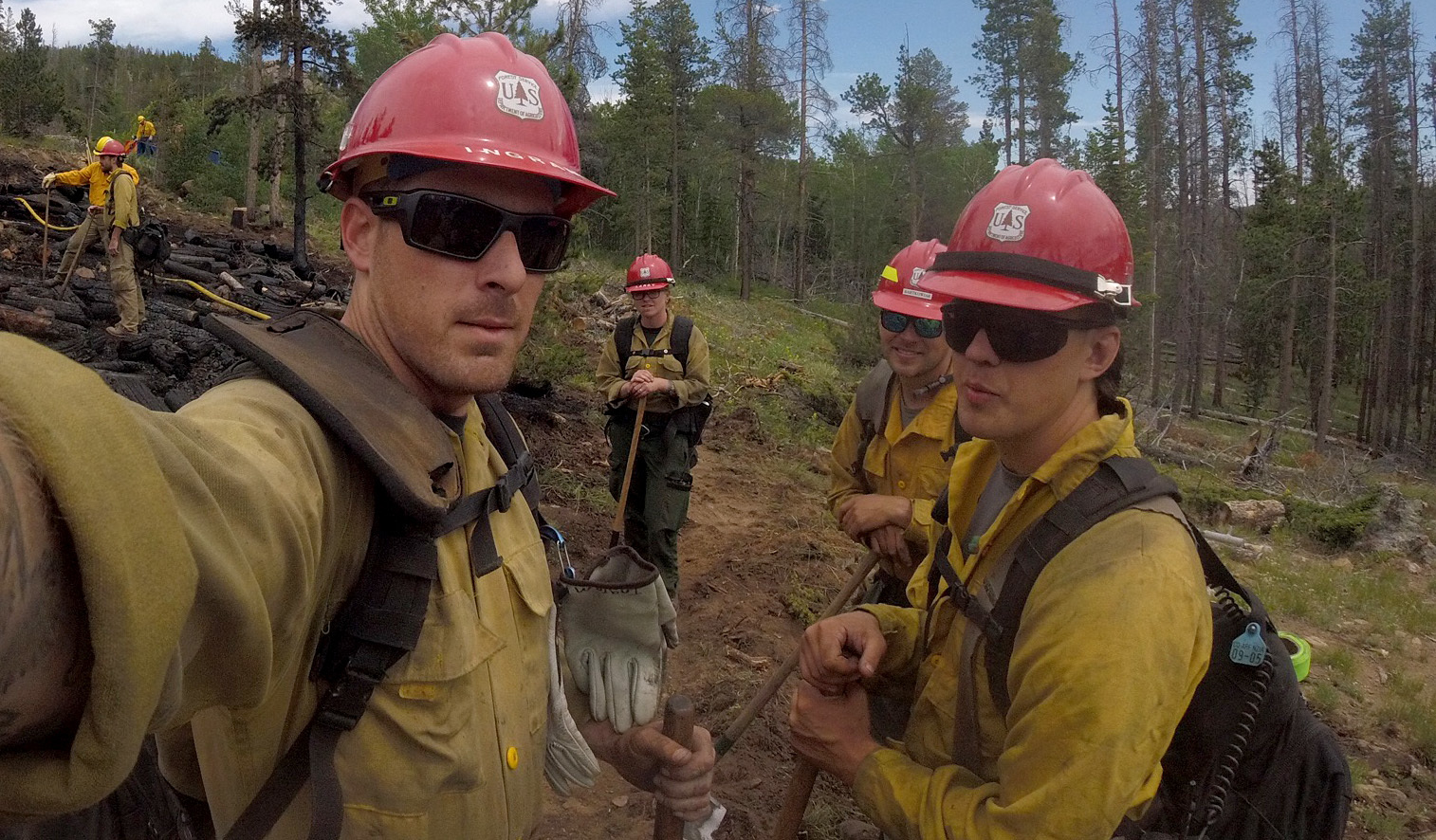 "My time with Southwest Conservation Corps definitely help facilitate a wildland fire position. After my initial three month term on a summer crew I was offered an internship on a US Forest Service wilderness trails crew. Not only did that allow me to get my foot in the door with a federal organization, but I also was able to see a little bit more of the "fire world". From there I got my basic classes taken care of.
I am now on an Initial Attack squad out of Fort Collins, Colorado with the US Forest Service. Fire has been probably one of the toughest things I've done. But, I am a firm believer in embracing challenges. Human beings need struggle and hard times in order to grow. An extreme and difficult situation forces those in it to look deep within themselves and really figure out who they are and what they're about—all in a very honest way that is rare in how a lot of us operate. Hiking up a steep slope gets right to it all, no nonsense. As for everything else with the job how could cutting down trees, burning things, camping and working out not be tremendous?"
Sydney Nieminen, Arizona Conservation Corps Alumni
Crew 4, Coconino National Forest

"I started with Arizona Conservation Corps in the fall of 2014 on a saw crew. I had never used a chainsaw or worked on a crew but the encouragement, support and trust I experienced on that crew pushed me to continue with conservation work. I continued on other crews as an assistant leader then served two terms as a lead for trails projects and invasive removal. I wanted to jump to fire to challenge myself in a related but different field. 
My experience with Arizona Conservation Corps really helped me to get noticed in the mayhem of applying for government work. The year after my last term I was hired on an engine in Happy Jack, Arizona. After six months there, I joined Crew 4 in Flagstaff. 
Our projects include fuel reduction through prescribed fire and thinning as well as wildland fire suppression. We've been stationed on our district the last few weeks for the southwest's fire season but will soon travel out of region to help other forests with theirs. In the fall we begin prescribed fire to meet fuels reduction and forest restoration goals. 
The physical training and time on the fire line has been difficult but well worth it on a crew that takes pride in working hard and being stewards of the land, something I don't hear often in fire but I know to be true. Crew 4 is a place where I can continue to challenge myself physically and mentally. I'm grateful that Arizona Conservation Corps gave me the chance to work outside and help me move towards my career goals; it's a time I will always remember and cherish." 
Aisling Eller, Arizona Conservation Corps Alumni
Crew 4, Coconino National Forest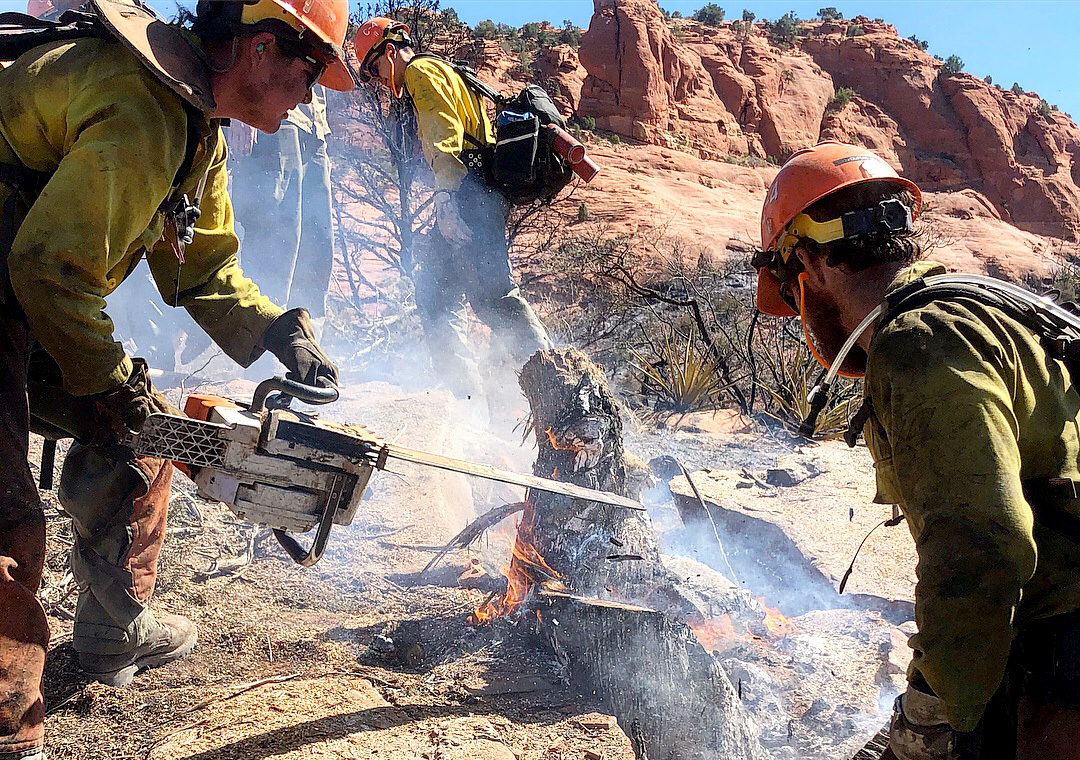 "I currently work on the Coconino National Forest on Crew 4 we are based out of the Flagstaff Ranger District. Our crew does a lot of fuels reduction and prescribed fire, however we do also respond to suppression fires. Working on a fire crew changes from season to season and day to day. One day we could be out thinning, having a day at the station working on projects and getting ready for the next fire, or (the exciting part) out on a fire. It is exciting for me to have a job were a can connect with people from different backgrounds, stay fit and healthy, have new experiences everyday, and continue personal and professional growth in a field I am interested in. 
I became interested in wildland firefighting through Arizona Conservation Corps. It really helped having that experience as a predecessor to fire. It was great for my resume, showing that I have a vast skill set. It has also given me a lot of connections in the fire world because multiple people that have gone through conservation corps now have this job. One thing that I value the most hard work and taking pride in what I do day to day." 
Mandy Bonesteel, Southwest Conservation Corps/Arizona Conservation Corps Alumni
Type 6 Engine Crew, Manistee National Forest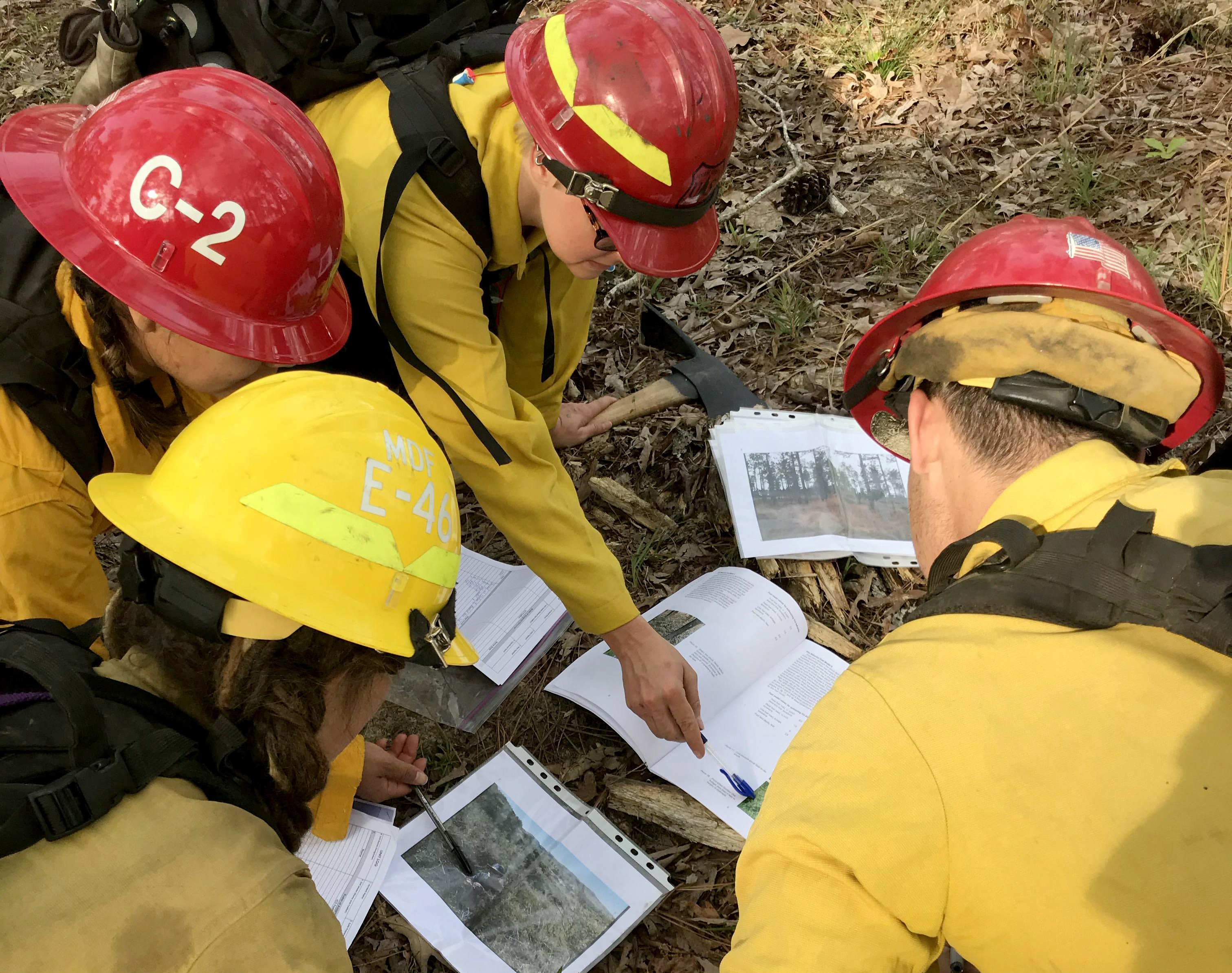 "I'm in the Wildland Firefighter Apprentice Program, which is a 3,000 hour training program designed to develop career firefighters into senior firefighter positions in the US Forest Service. My home unit is in Michigan on the Manistee National Forest on a Type 6 Engine. Last year I got the opportunity to go to Arizona, Montana, and West Virginia on engines and hand crews in addition to being at my forest.
We just responded to our first fire this season, the 416 fire in Southwest Colorado. Working night shift that assignment was a new experience for me! When you're working from 5pm-9am, sleeping gets interesting. At one point I was sleeping on an elementary school classroom floor, another in my hammock, sometimes on the ground or in the buggy.
Much like the conservation corps, wildland fire is a lesson in flexibility, patience with people, eating and sleeping in the dirt, hard work, and learning opportunities. Things that most people wouldn't do—eat a sandwich with hands covered in soot, saw gas, dirt, and who knows what, sleep in the dirt fully clothed—no wonder I've seen so many other former crew members in fire! We're a strange breed, a good kind of crazy, and we like working hard for little pay so that people can continue to enjoy our public lands."