FOR IMMEDIATE RELEASE: November 13, 2018 
Grand Canyon Youth Receives Funding for Habitat Restoration Program with Native American Youth in Glen Canyon National Recreation Area 
PAGE, Arizona – Flagstaff, AZ – Flagstaff-based nonprofit Grand Canyon Youth (GCY) will engage Native American youth in restoring riparian habitats within Glen Canyon National Recreation Area thanks to a major grant from the National Fish & Wildlife Foundation (NFWF) and Wells Fargo.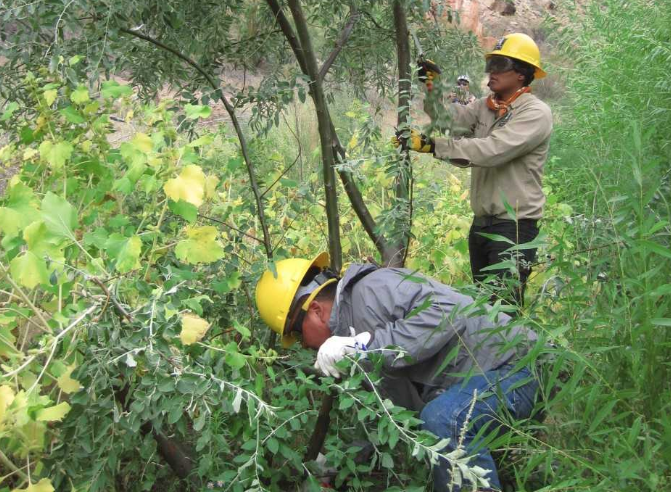 Youth members of Conservation Legacy's Southwest Conservation Corps Ancestral Lands Program will work with the GCY guides and mentors to halt and reverse the spread of invasive non-native plant species along the Colorado, San Juan, Escalante, and Dirty Devil Rivers. GCY provides young people with an experiential education along the rivers and canyons of the Southwest in an effort to promote personal growth, environmental awareness, community involvement, and teamwork among people of diverse backgrounds. 
"We are thrilled to have the opportunity to share the spectacular, but often inaccessible, rivers and canyons within Glen Canyon National Recreation Area with young people," said Emma Wharton, Executive Director of Grand Canyon Youth. "Not only will they restore habitat and gain practical skills, they will also connect with the natural world in a way that few people today are able to do." 
As part of the project, Ancestral Lands Program youth will develop conservation skills, learn about stewardship of natural resources, hone outdoor recreation skills, and explore conservation and recreation career opportunities. The project will include 100 riverside sites, covering over 15 acres, and will protect and restore biologically significant riparian areas and hanging gardens. 
"The Ancestral Lands Program is proud to continue partnering with Glen Canyon, Escalante River Watershed Partners, Grand Canyon Youth, and NFWF through this opportunity," Mike Wight, Southwest Conservation Corps Ancestral Lands Regional Director said. "Together we are making large-scale impacts on the watersheds and the people of the Colorado Plateau through restoration, recreation, and engagement of underserved youth." EXPERIENCE YOUR AMERICA >span class="s4">™ 
Lonnie Pilkington, Natural Resources Program Manager of Glen Canyon National Recreation Area, has worked with hundreds of youth on resource stewardship and citizen-science programs and is excited about both the chance to engage area youth and the habitat restoration in which they'll participate. 
"This is a great opportunity to collectively inspire the next generation of public land stewards and protect critical riparian resources." said Pilkington. Additional partners on this project include Grand Staircase Escalante Partners, Escalante River Watershed Partnership (EWRP), and Glen Canyon Conservancy (formerly Glen Canyon Natural History Association). 
"Large, landscape scale problems are best addressed through partnerships such as this. Not only is the partnership focused on ecological restoration and getting work done on the ground, but one of the most impactful objectives is to expose young people to place and grounding them in the landscape," said Stephanie Minnaert, Public Lands Program Coordinator with Grand Staircase Escalante Partners, member organization of ERWP. 
The importance of partnership in ecological restoration is echoed by John Spence, co-founder of EWRP. 
"This important project will enhance exotic plant control efforts throughout Glen Canyon and foster critical partnerships and outreach with regional tribes and their strong connections with the landscape," Spence said. 
The grant, for just over $203,000, was awarded through the NFWF's Resilient Communities program, funded by the Wells Fargo Foundation. The $10 million, four-year program awards grants to nonprofit organizations to help communities become more resilient against conditions associated with a changing climate. Grand Canyon Youth was one of just eight grant recipients for this year. 
Glen Canyon Conservancy, Glen Canyon National Recreation Area's official philanthropic partner, played a key role in the development of this successful proposal. 
"The next generation of environmental stewards and endemic riparian species alike are cultivated in this inspiring partnership, said Martin Stamat, Glen Canyon Conservancy Executive Director. "Participants, grantors, and stakeholders have all taken a large step forward safeguarding delicate natural resources and inspiring conservation." 
Contacts: General Park Information: 928-608-6200 
Media Inquiries Only: Public Information Officer Maschelle Zia, 928-608-6207, or 928-640-2955 (mobile)