Conservation Legacy is proud to announce Ancestral Lands as the recipient of the 2021 Outdoor Retailer Inspiration Award in the nonprofit category.
Ancestral Lands
August 12, 2021 | Conservation Legacy is proud to announce Ancestral Lands as the recipient of the 2021 Outdoor Retailer Inspiration Award in the nonprofit category.
Denver, Colorado - The 11th Annual Outdoor Retailer Inspiration Awards celebrate champions of the outdoor community who inspire and encourage others to enjoy, participate in, and support outdoor recreation. Annual awards are presented to individuals, organizations, and companies within the outdoor recreation industry. This year's recipients have been announced at the virtual ceremony, which occurred on Wednesday, August 11, 2021, in conjunction with the Outdoor Retailer summer market in Denver. The 2021 award categories included individual, emerging leader, manufacturer, retailer, and nonprofit organization nominees.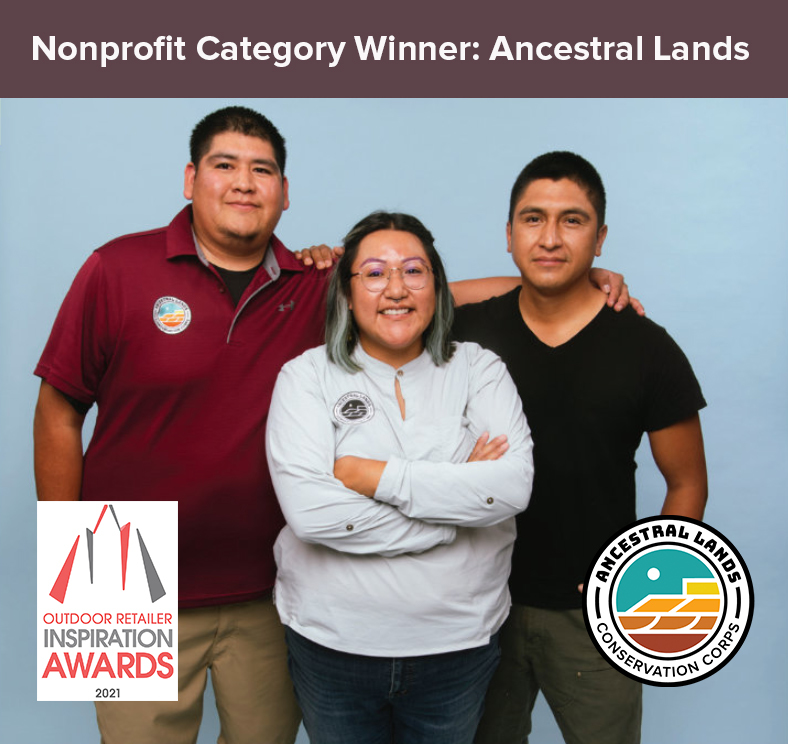 "Ancestral Lands has been working for over 10 years to support Indigenous individuals in conservation, community and culture. The positive impact this program is undeniable, and we are excited that our Ancestral Lands staff and members have received this well-deserved award for their steadfast work and dedication," remarked Rob Spath, Conservation Legacy Chief Executive Officer. "We extend our gratitude to Outdoor Retailer for this recognition."
"On behalf of our program, I am genuinely humbled to receive Outdoor Retailer's Inspiration Award in recognition of our work to connect Indigenous young people to their Ancestral Lands while completing important conservation projects," states ALCC Director Chas Robles. "I want to recognize our incredible staff, participants, communities, and partners—including the National Park Service, the Bureau of Indian Affairs and AmeriCorps— that make this all possible."
Ancestral Lands Conservation Corps (ALCC), a program of Conservation Legacy, began at Acoma Pueblo in 2008 and has been working to lead Indigenous nations back to ecological and cultural wellbeing for over ten years. ALCC does this by engaging Indigenous youth and young adults in conservation service programs that reconnect participants to the land, their cultural heritage, and their traditions. ALCC works to remove barriers to participation, education, and employment by partnering with local community organizations, agencies, and institutes of higher learning to create paid service and career training opportunities, personal and professional development and pathways to postsecondary education and employment. Today, ALCC serves youth, young adults, and veterans in the communities of Acoma Pueblo, Albuquerque, NM, Navajo Nation, Hopi, Zuni Pueblo, and other locations around the U.S. Projects have included trail work, climate change mitigation, historical preservation, wildland fire fighting, and traditional agriculture.
Conservation Legacy operates local conservation service programs under the leadership of a national organization, delivering high quality programming in communities across the country to produce enduring impact. Last year, Conservation Legacy engaged over 2,200 youth, young adults and veterans in conservation, restoration and community development projects and contributed 1.2 million hours of service to public lands.
Conservation Legacy programs—Appalachian Conservation Corps, Arizona Conservation Corps, Conservation Corps New Mexico, Conservation Corps North Carolina, Southeast Conservation Corps, Southwest Conservation Corps, Stewards Individual Placement Program and Preserve America Youth Summit—engage participants on diverse conservation and community service projects that provide opportunities for personal and professional development and meet the high priority needs of public land managers and community partners. Working in close collaboration with partners across the country, Conservation Legacy advances goals of increasing equitable and opportunities in conservation, stewardship, national service and workforce development.